Welcome to the Whanganui Anglican Parish. We have many beautiful churches throughout Whanganui, varying in shapes and sizes. Our churches are precious spaces we are excited to share with you.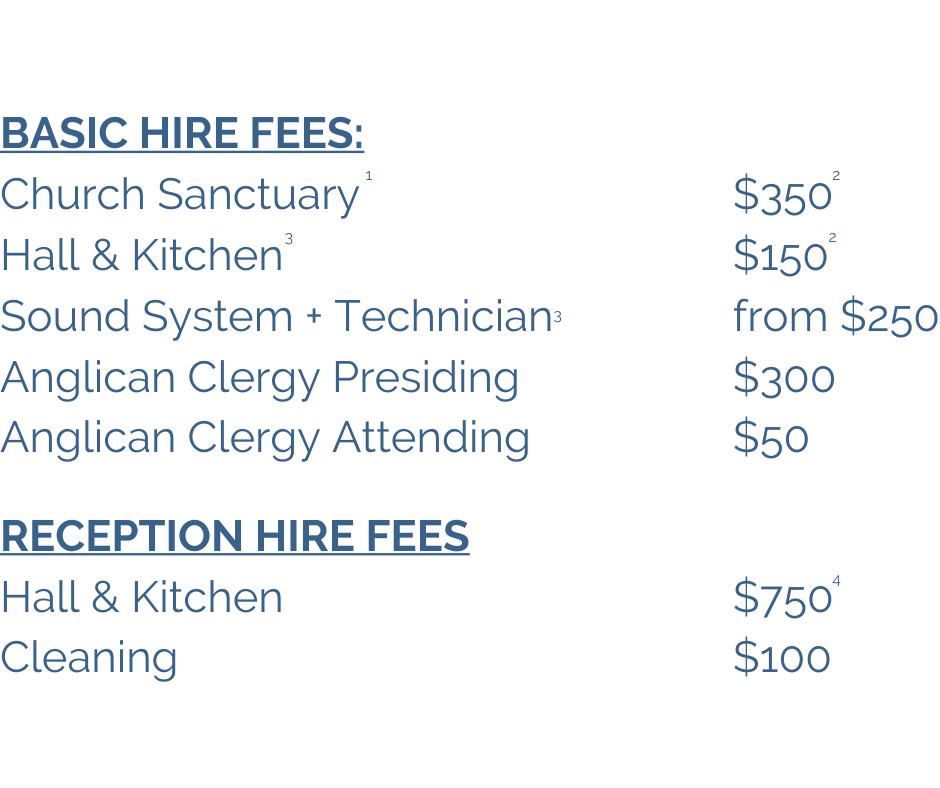 The Details:
Weddings must be conducted by an approved Christian Minister.
All couples who get married in an Anglican Church within our Parish are required to participate in marriage preparations sessions. If one of our local Clergy are presiding over your wedding they will organise this with you. If you are being married by a Minister outside our Parish these sessions will take place with them.
It is a requirement that either the Bride or Groom has been, or intends to be baptised in order to marry in one of our churches.
Please contact the Parish Office with your questions and to book any of our churches or halls.
1. Includes a rehearsal of up to 2 hours the day before.
2. Up to 4 hours.
3. Available at All Saints, Christ Church & St Peter's.
4. Includes exclusive use from 12pm day before until 11pm day of.
Contact Us
Wedding Booking Enquiry Form
Christ Church
243 Wicksteed Street, City Centre
Our largest church sanctuary also with mezzanine floor, can seat a maximum of 200 people.
Equipment available for use/hire:
Sound system
Wifi
Foyer with TV
Hall (also known as the Lower Lounge) also available for hire.
Wedding Booking Enquiry Form
St Chad's
39 State Highway 3, St John's Hill
Our church on a hill, can currently seat a maximum of 50 people.
Kitchenette available for use
Wedding Booking Enquiry Form
St Luke's
34 Mānuka Street, Castlecliff
Not currently taking bookings.
Our church by the beach.
Full kitchen & hall available
Large outdoor forecourt area
Large foyer
St Mary's
480 State Highway 4, Upokongaro
Our church by the awa, set in the village of Upokongaro, can seat a maximum of 50 people.
Picturesque gardens for photos
Wedding Booking Enquiry Form
St Oswald's
8 Western Line, Westmere
Our English-style brick country church, with category 2B heritage status, designed by architect F. de J. Clere, seats a maximum of 50
Wedding Booking Enquiry Form
St Peter's
71 Koromiko Road, Gonville
Our first church building originally constructed in 1866 and relocated to Gonville in 1922, with heritage 2B status, stunning architecture and beautiful gardens, seats a maximum of 100 people.
Wedding Booking Enquiry Form